Walking School Bus Leaders Needed
Thanks to everyone who joined us for our first workshop in January. We are in the process of establishing Walking School Buses at some of our elemenatry schools. We are now looking for volunteers to help lead Walking School Buses. If you are availabe in the morning and are able and willing to walk up to a mile, we'd like to hear from you! CONTACT US today for more information!
Download the flier to the right for more inofrmation>>>>
About the Walking School Bus program
We are working towards establishing Walking School Bus programs at each elementary school and we need your help in planning, promoting and serving as walk leaders. Walk Leaders will be required to apply through the CCUSD volunteer program (including a live scan) and attend our Walk Leaders training workshop in the Spring. 
What is a Walking School Bus?
Walking school buses are fun activities to help kids get to school safely. Bus Leaders walk a specific route every day, leading groups of kids to school.  This insures that regardless of parent involvement, changing school schedules or inclement weather, Walking School Buses continue. Walking School Buses generally start at a specific location or home and walk a route to school, picking up kids along the way. Walk leaders are trained and approved to volunteer in our district (meaning Live Scans, TB tests, etc). Parents are welcome to join the fun either as participants or as volunteers.
---
Walking School Bus Workshop
On January 19, 2017, we hosted our first Walk Leaders Workshop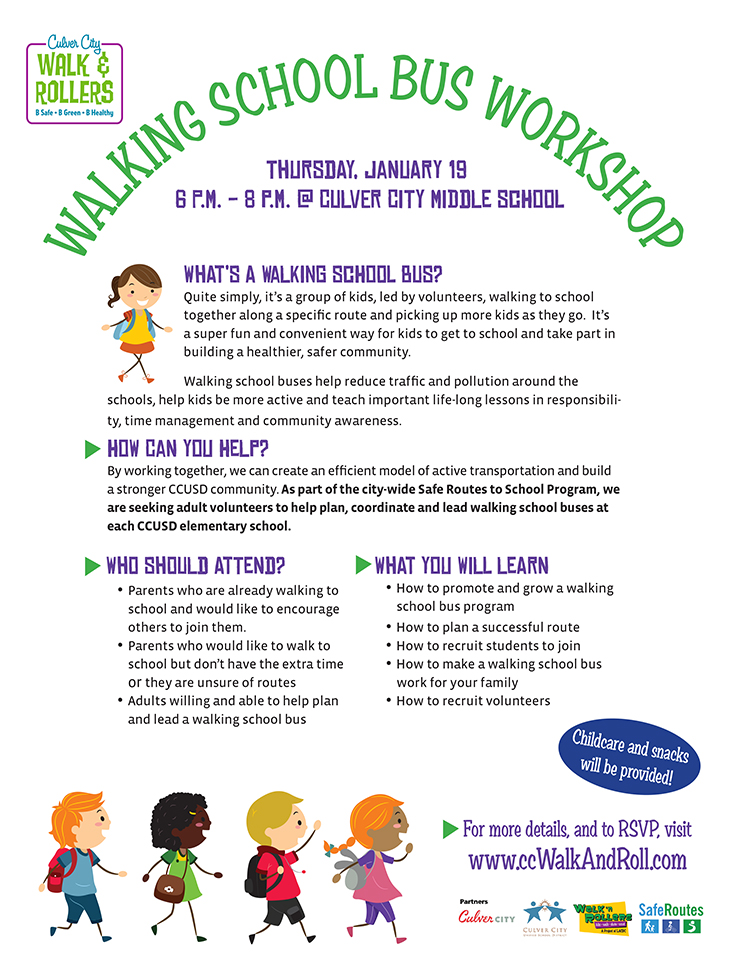 Please join us for a free 2 hour workshop as we define the program, establish teams for each school, plan routes and overcome obstacles. You will leav
e the workshop with tools to help your school succeed regardless of what level you are at. So if your school currently has a Walking School bus, we'll show you how to recruit volunteers and promote the program. Or if you are starting from scratch, we'll show you how to define your program, recruit students, plan a route, recruit volunteers and promote the program.
Who should attend: 
Parents who are already walking to school and would like to encourage others to join them.
Parents who would like to walk to school but don't have the extra time or they are unsure of routes
Adults willing and able to help plan and lead a walking school bus
What you will 
learn
How to develop and grow a walking school bus program
How to plan a successful route
How to recruit students to join
How to make a walking school bus work for your family
How to recruit volunteers
Date: Thursday, January 19, 2017
Time: 6:00 - 8:00 p.m.
Location: Culver City Middle School, Library
NOTE: Snacks and childcare will be provided
To R.S.V.P. please take the SRTS WALKING SCHOOL BUS SURVEY
---
We are excited to announce Wheels & Heels: Bicycle and Pedestrian Safety Workshops for the whole family!
These FREE, interactive and fun classes are designed to help get you walking and rolling more often and more safely. Lead by trained instructors, they include class time as well as on street time – either on foot or on bike. We are offering classes for adults and families and you can sign up for as many as you like! REGISTER TODAY
Curious about biking but not sure where to start? Curious what the actual rules of the road are? Are you looking to encourage your kids to bike to school more? No matter your level of experience – from beginner to advanced – there is something for everyone. The classes will teach:
The benefits of walking and biking more
How to incorporate simple walks into your lifestyle
How to safely walk with your family in your neighborhood
How to bike safely to school 
How to commute to work safely
Essential rules of the road
Minor roadside repair
Technical tips
and more!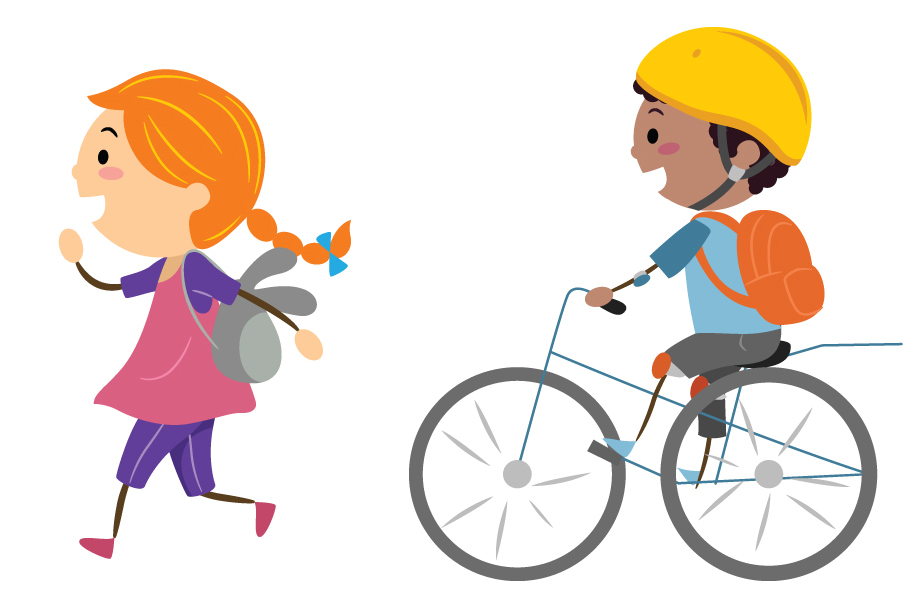 All classes will meet at Culver City Middle School (4601 Elenda St, Culver City, 90230), Room 2 (room 2 is next to the main office at CCMS. It is accessible from the front parking lot or the entrance near the bike racks)  MAP
CLASS SCHEDULE:
For Families: Free Snacks and goody bags for the kiddos!
Pedestrian Safety: Walking to School and Beyond + Group Walk: Learn essential pedestrian safety, hazards to watch for, walking in your neighborhoods, playing Pokémon Go safely, and more.
Oct 2    9 a.m. - 11 a.m.      
Bicycle Safety Basics + Group Ride Learn the essentials of bike safety, including bike selection, gear, route planning, rules of the road and more.
Oct 2    11 a.m. - 1 p.m.      
Essential Bicycle Skills + Group Ride On bike survival skills to help you avoid most dangers on the road
Oct 9    10 a.m. - 12 noon   
Family Group Ride This family-fun ride will take us through Culver City neighborhoods to put all our new skills into practice.
Oct 16  10 a.m. - 12 noon  
For Adults
Rules of the Road This essential class will review all applicable vehicle code rules and safe cycling guidelines. 
Oct 4, 7 p.m. - 9 p.m.        
The Safe Bicycle Learn how to select the right type and size of bike, what gear to bring - and what not to, proper helmet fitting and checking your bike before every ride to ensure it's ready to troll. This class is especially helpful for beginners to build confidence in being able to ride safely.
Oct 11, 7 p.m. - 9 p.m.      
Bicycle Commuting Basics You've selected the right bike, your gear is ready to go, you have an understanding of the rules of the road and now you are ready to roll to work! This class has something for everyone. From route selection to balancing work clothes with riding gear and comfortably mananging riding in rush hour traffic.
Oct 18, 7 p.m. - 9 p.m.      
Bicycle Skills This class is geared to learning how to handle your bicycle in real, on-road situations. What do you do when a car cuts you off? Can you stop fast enough? Should you stop or move out of the way? You will learn essential bike handling skills as well as emergency maneuevers to increase your confidence and help you ride more safely.
Oct 23, 10 a.m. - 12 noon  
Rules of the Road + Commuting by Bike Time to put it all together. All those rules, preparation and bike skills... in this class you will master the ability to ride comfortably on te street in every situation. (Note, enrollment in Bicycle Skills is required for this class)
Oct 30, 10 a.m. - 12 noon  
Group Ride Time to have some fun! This is more of a fun ride than a class, although we will review and discuss safety essentials throughout the ride. Join us on a 90 minute bike ride with a lunch stop in the middle (route TBD)
Nov 6, 10 a.m. - 1 p.m.      
ALL CLASSES ARE FREE!
REGISTER TODAY