CC SRTS Walk to School Days:
El Marino
1st Wednesday of each month
Meet up spots: US Bank (Sawtelle & Sepulveda), Ballona Creek Bridge (Sawtelle), 8am
Walking School Bus Wednesdays: Every Wednesday join a pod and join the fun. Meet at a starting point or join a group along the way. Visit the El Marino site HERE for details
 
El Rincon 
2nd Fridays of each month
Meet up spots: Panera Bread Parking lot (Jefferson/Sawtelle); Starbucks, Westfield parking lot 8am (free coffee!); 7-11 at Berryman and Sepulveda
​Note to parents: Although we have taken a variety of steps to minimize the risk of children walking to and from school, parents are still responsible for getting their children to and from school safely, and the school, school district or city of Culver City is not responsibile for those travels by providing suggested routes.
---
Shoe Tags are Everywhere!
All our schools are now actively using the tagging/tracking system. This cool tag works like an electronic raffle ticket. The barcode is scanned when students participate in their school's Walk to School activity. Most schools are distributing when kids participate so if your child doesn't have one on their backpack, make sure they get one soon! Each school has their own range of numbers so the little ones should keep it until they switch schools. The tag is completely anonymous but allows us to see how many students participated and which class had the highest percentage. Get yours today from your school's SRTS Committee and be sure to have it on your walk to school day!
---
Back to School 2017 Updates!
News maps are here! Check back to your school's page for updated routes!

Take the 3 Block Challenge - park just three blocks from school and walking the rest, which equates to a 10 minute walk. Parking a few blocks away can make a big difference in reducing traffic and pollution around the schools while adding some extra activity to your child's day. Consider this: if every parent who now drives their child(ren) to school committed to the 3 Block Challenge just one day a week, traffic around the school would be reduced by 20% each day.​

Be on the lookout for new Shoe Tags! Students will be provided a barcoded tag. This tag is anonymous and free and will allow schools to accurately track how many students participating in each event. Like an electronic raffle ticket, the tags can also be used to reward classes for their effort.

Click on the image to the right for tips on walking to school safely >>>
International Walk to School Day, Wednesday, October 4
Join thousands of schools from across the country and around the workld in this annual celbration of active transportation. Join your school at their meetup sites or walk on your own. Even parking just a few blocks form school and walking the rest will make a big difference. Check out your school's page for details!
---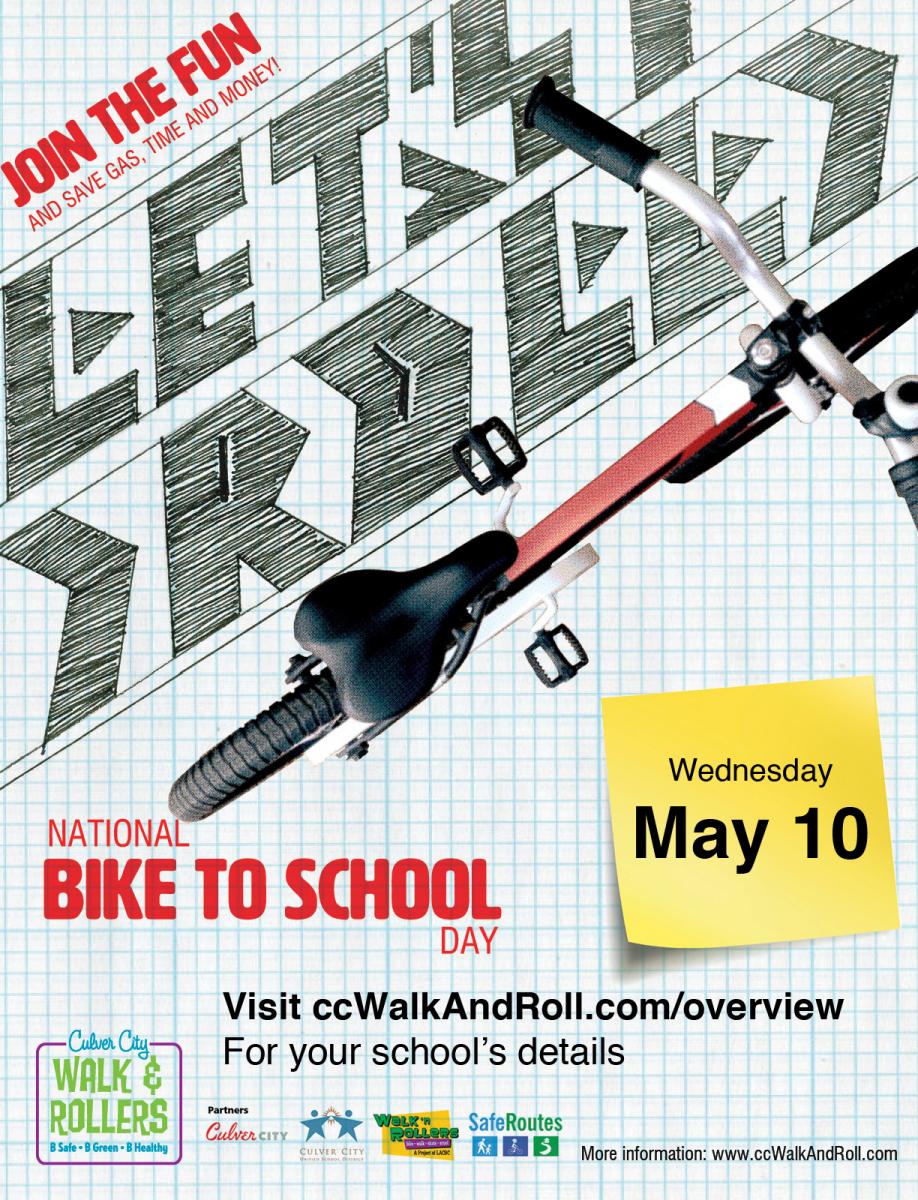 2017 National Bike to School Day, May 10
It's Pack the Racks time at CCUSD. Help us demonstrate that CCUSD is ready to lead the way in alternative transportation. Your kids have had safety skills training and their bikes should be ready to roll, so join us as we pack the bike racks with 2 wheelers! Bonus prizes for those who bike to school May 10! Join the fun and spread the word! Each school is planning something special so be sure to check your school's page for details.Traffic on Elenda is awful.
With 2100 students at the high school, 1600 at the middle school and 600 at Farragut, cars can back up for blocks during drop off times. This creates unsafe conditions for students walking in the area and adds to the pollution in the neighborhood. Parking and walking just a few blocks away can make a huge difference. Other options include carpooling and taking Culver City Bus which drops off right in front of the high school. Lets all be part of the solution!
To learn more, visit our 3 Block Challenge page.
---
National Bike to School Day: Wednesday, May 10!
Join all Culver City Schools and thousands of other schools from around the country in this celebration of active transportation. Don't forget your helmet and ride with all the rules of the road. Be sure to check out your school's page for details of your school's activitiy.
May the Fourth be with you... post pics of you and/or your kids in Star Wars outfits or with your Bike to School Day sticker on our Instagram site and you could win a set of free bike lights! @ccwalkandroll
---
Help Your School Win FREE Bike Helmets!
We want to hear from you. Take our Parent Travel Survey and help make the SRTS Program better AND help your school win free bike helmets! This annual survey helps us understand how you get to school and the benefits or barriers of the SRTS Program. Each school that gets a 25% response rate will get 12 helmets. The school with the most responses will get 12 ADDITIONAL bike helmets to use or giveaway. Follow the link to your school and take the quick survey:
Culver City Middle School
El Marino Languag
e School 
El Rincon Elementary
Farragut Elementary 
La Ballona Elementary 
Linwood E. Howe Elementary 
---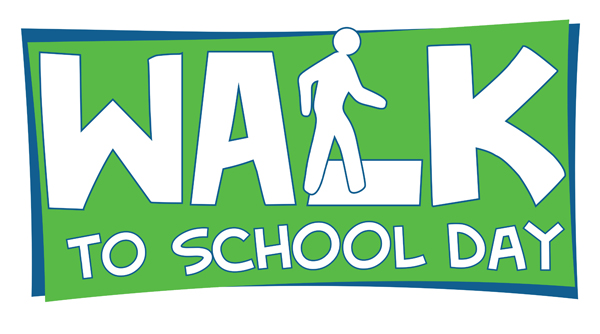 INTERNATIONAL WALK TO SCHOOL DAY: OCTOBER 7, 2015
All Culver City Schools will be joining thousands of schools and millions of children around the world in a celebration of the benefits of active transportation.
Each school is planning their own activity, so be sure to check out your school's page for details:
El Marino: Meet at Sawtelle/Jefferson (US Bank) or the bridge on Sawtelle for a group walk to school
El Rincon: Walk at least 3 blocks to school and stop by the welcome table on the blacktop for a raffle ticket and a chance to win some cool prizes.
Farragut: Join other Farragut Foxes at one of two meetup sites: Vets Park (Coombs and Culver) and Lindberg Park (by the Stone House) for group walks to school. 
La Ballona: Join La Ballona Lions at one of two meetup sites: Telefson Park or Elenda/Braddock (near the paddle tennis cpurts) for group walks to school. 
Linwood Howe: Meet at City Hall for a grand celebration and kickoff as the Hiking Vikings Dance/Walk their way to school!
CCMC: Look for ASB students leading meetup sites at Vets Park and Lindberg Park (Ocean/Cota), and stop by the welcome table in front of school. Students that walk at least 3 blocks to school are eleigible for raffle prizes.
---
Check out the Culver City Bike to School Day video HERE to see how excited our kids are to participate in bike-walk to school days 
The Culver City Walk & Rollers works with all five elementary schools and the middle school to establish effective and sustainable walk-bike to school programs. While there are a lot of tools at our disposal, each school is unique. We are here to help each school's SRTS committee develop a program that makes sense for their school and that can be managed effectively. Programs may start small, but our expectation is to grow them into robust and successful programs. Some schools, are already off to a great start!
For more information on what each school is doing, you can ask you school's SRTS Team Leader or visit their SRTS page through the links on the left.
---
Parent Travel Surveys are in!
The results from our Parent Travel Surveys and Student Hand Tallies have been tabulated and are raqdy fr your review. The surveys are full of information related to how kids et to school and why. To see the highlihts of your school, click on your school's link. To view the entire report from all schools, visit the archive page.