3 Block Challenge
Be part of the solution! We encourage parents to take the 3 Block Challenge by parking and walking 3 blocks to school at least once a week. Parking just a few blocks away goes a long way towards reducing traffic and pollution around your school while adding some extra activity to your child's day. Soon 3 will be come 4 and 4 will become 5!
Walking or biking to school does not necessarily mean door-to-door or even every day. Each block and every day not driven does make a difference. Plus its great parent-child time and an excellent opportuntiy to teach kids the essentials of traffic safety, like stopping and curbs, crossing at corners and looking in all directions before crossing. 
To see your school's 3 Block Challenge, click HERE
Walking or biking to school on a regular basis is easier for some families than others. In an effort to reduce the traffic around the schools, we encourage parents to not drive within the school zone and park a few blocks from school and walking the rest. Parking just a few blocks away can make a big difference in reducing traffic and pollution around the schools while adding some extra activity to your child's day. Consider this: if every parent who now drives their child(ren) to school committed to the 3 Block Challenge just one day a week, traffic around the school would be reduced by 20% each day.
Feeling pressed for time? For those who must drive, here are four suggestions on how to participate:
Make it fun for the kids. Each day, count how many cars you pass in the queue or in the few  blocks your are walking. 

Commit to one car free (or drive-less) day. Pick one day that is easiest to manage and commit to driving within ½ mile of the school (that's about five blocks) and walk the rest with your kids. You may have to readjust your schedule a bit, but it will be worth it. Both you and your children will love the extra time together and the extra activity. Tip: Once a month or once a week is a great place to start and work towards weekly or more.

Build Community. Park at a friend's house or a common meetup spot, like a park, and walk from there together.

Carpool. Ask some friends if they would be interested in carpooling. 2-3 families can share the duties throughout the week and that means free mornings for the parents not driving and less cars at school sites. Tip: Start by asking parents in your child's class if they would be interested.​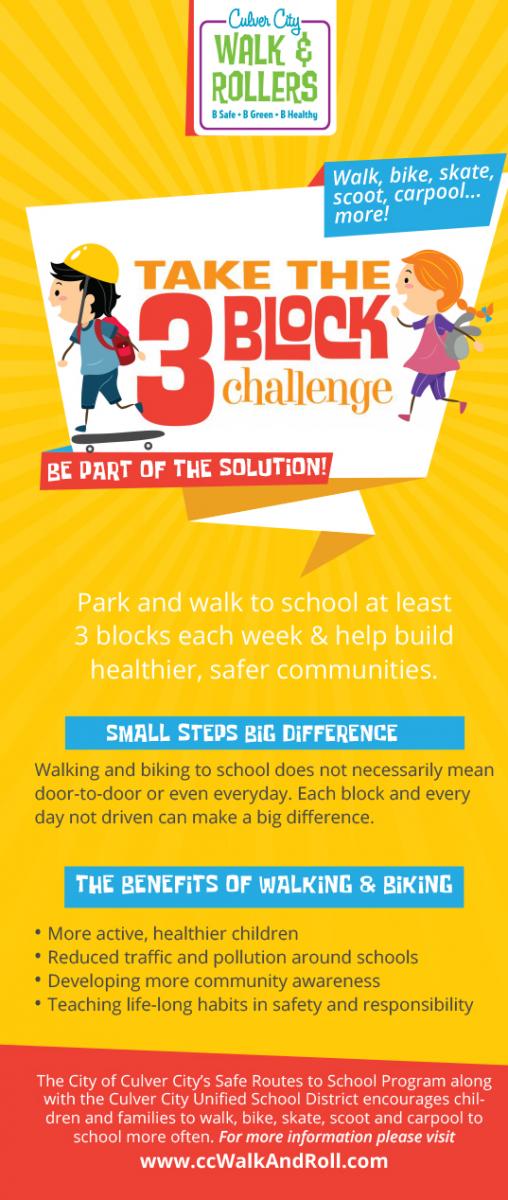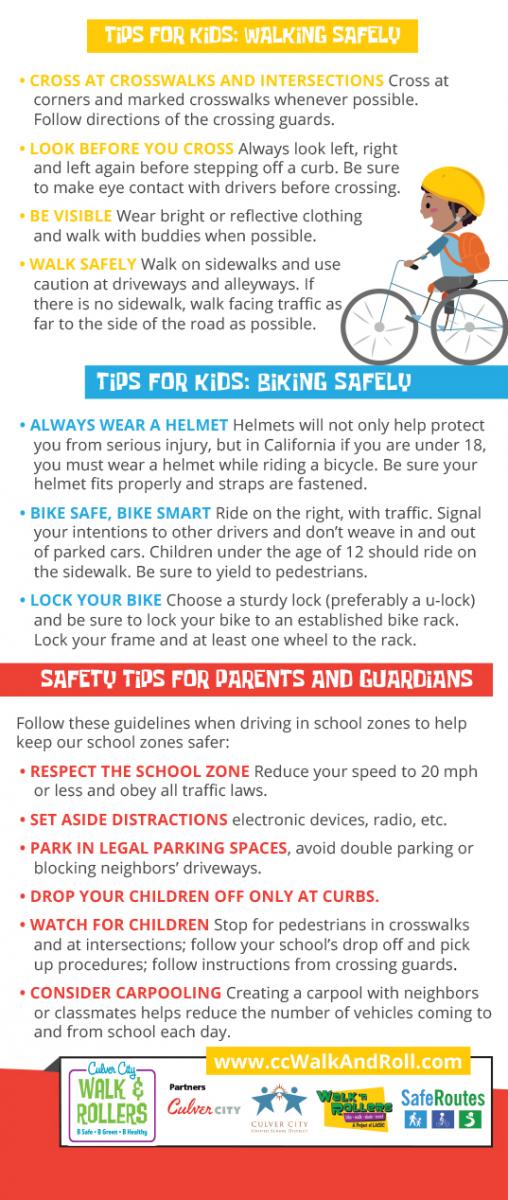 Elementary Schools
Safe Routes to School Committees
Each school will be establishing a SRTS Committee that will meet regularly, establish guidelines for their school, develop encouragement campaigns and train the next generation of leaders. Working with the Walk 'n Rollers team, they will be provided with resources and training to ensure their success. We encourage all residents to become involved on any level. Contact YOUR SCHOOL for more information, or you can reach our SRTS Coordinator HERE.
Walk to School Days 
Without a regular reminder of the value of walking and biking to school, it is difficult to foster change. One of our goals is to help each school in Culver City establish regular walk-bike to school programs. These can be monthly, weekly or even daily. We suggest start with meetup spots to build awareness and confidence and go from there.
Walking School Buses
Walking school buses are easy ways for kids and families to work together to make walking to school easier and more fun. A group of families choose a starting point and route and as they walk to school, others join in. This could be headed by a family that is already walking to school and others join them on the way. Or an easily accessible meetup spot is chosen and the bus starts there. We'll be working with each school to help them establish and maintain their own walking school buses.
Culver City Middle School
CCMS Walk to School Days are on the Third Thursday of each month. Hosted by the CCMS ASB Class. be sure your kids have their shoe tags so they can be scanned and rewarded fwith drawings and other prizes or their efforts in walking or biking to school.
School Pools
Carpooling, walking with friends, biking as a group… all of these are school pools and they all help our community be safer and cleaner. Here are some tips to get you started:
Begin by asking friends and neighbors.

Put requests on your online communications boards.

Share your route with friends and ask them to join you either at the beginning or en route

Ask your principal and PTA to help get the word out

Speak with your SRTS Committee (or better yet, join them) and ask them to help organize walking school buses and rolling bike trains​
Family Rides
We host a Family Fun Ride each month to help familes explore the City by bike. Events are free and lead by trained instructors. Visit the Family Fun Ride page for details.
Family Walks
To help encourage more families to enjoy the benefits of a healthy walk, we have partnered with Culver City's Walk with a Doc program for monthly group walks. For details, please visit our Family Walk page.
School Barcode Tags
Starting in 2015, students will be provided a barcoded tag. This tag is annonymous and free and will allow schools to accurately track how many students participating in each event. Like an electronic raffle ticket, the tags can also be used to reward classes for their efforts.
Bike Racks
With more kids being encouraged to bike to school, having adequate and appropriate bike parking at each school is essential.  Walk 'n Rollers is in the process of evaluating each school's needs and recommending solutions. Stay tuned for details.