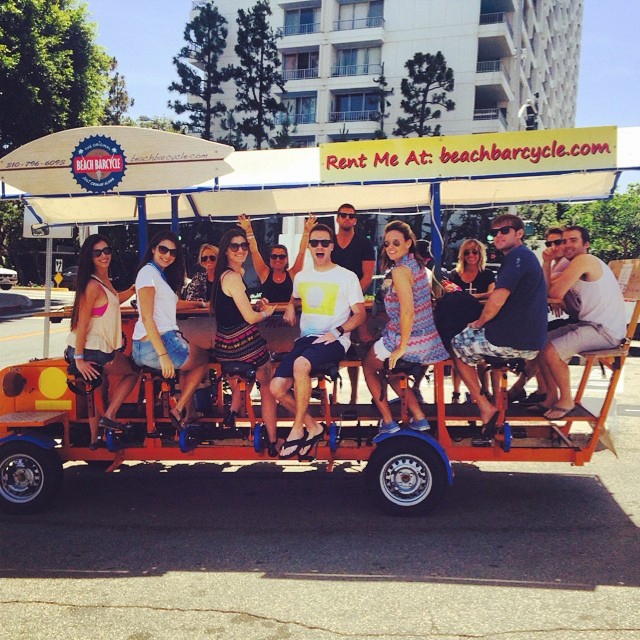 Take the Culver City Safe Routes to School Parent/Caregiver Pledge and show your commitment to helping Culver City Schools be healthier and safer. Plus, by taking the pledge, you will be entered in a raffle to win 2 seats to ride on the Barcycle during Culver City's Centennial Celebration, September 24 (the Barcycle is a 15 passenger self powered bicycle). 1 winner will be chosen from each school. Contest ends September 18. Sponsored by Heart Realtors
The Culver City Safe Routes to School Parent/Caregiver/Student Pledge
The Culver City Walk & Rollers asks parents, caregivers and students to support active transportation - walking and biking - to and from school as often as possible as part of the city-wide Safe Routes to School Program. 
Walking and biking to school does not necessarily mean door-to-door or even everyday. Each block and every day not driven makes a difference in reducing traffic and pollution around our school sites while helping our children be more active, creating safer, healthier communities for our kids. 
Note: You must be 18 or older to enter. 1 winner from each school will be selected. 1 entry per family. Each winner gets 1 adult and 1 child seat on the Barcycle. Prize is transferable. Prize has no cash value. No purchase necessary. Contest ends Sunday September 18. 
Sign the Pledge Today!
There are 2 ways to Take the Pledge:
1. Follow this link and take the pledge online
2. Click the image below, download the Pledge, sign and return it to: The Culver City Walk & Rollers booth at Fiesta la Ballona, bring it to your school's Walk & Rollers table at Back to School Night or drop it off at your school's office.