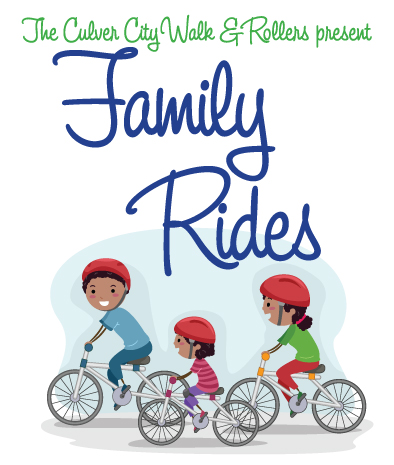 NEXT RIDE: Feb 28: Smart Gardening Workshop
Date: Saturday, February 28, 2015
Time: 9 a.m.
Location: Linwood E. Howe Elementary School
Download a flier in English or Spanish
What a great way to get ready for Spring. A fun, easy bike ride and free gardening workshop. Perfect for the whole family!
Join us as we ride to Veterans Memorial Building for Smart Gardening Workshops for beginners and experienced gardeners alike. Improve your lawn and garden or learn how to start composting. Workshops are free and last 1.5 hours
Bring a used egg carton and plant a seedling to take home!
Beginning workshops provide hands-on instruction on composting, worm composting, grasscycling, and water-wise and fire-wise gardening.
Residents can purchase a backyard or worm composting bin at a discount.
Advanced workshops introduce organic gardening, landscaping with native friendly and drought tolerant plants, and integrated pest management, environmental ways to control pests.
For details on workshops, please visit: 
http://www.culvercity.org/Calendar.aspx?cid=9876
Please RSVP on our Meetup Page HERE
RIDER NOTES
Our family rides are slow paced and lead by experienced ride leaders. They are a great way to meet other families in your neigborhood so you can start planning school pools or just learn to explore your neighborhoods on your own.
Ride Guidelines:
Helmets are required for all riders.
Bikes should be in good operating order.
Bring water, a snack, sunscreen and a secure bike lock (you will likely lock up you bike)
Waivers are required for all riders. Download waiver HERE
Walk 'n Rollers practices a "no rider left behind policy"
Previous Rides:
Sunday, October 5, 2014: Ride to CicLAvia
Join us as we bike to Expo and take the train to DTLA to experience CicLAvia! 
Ride with us for your chance to win Conservatory gift cards, water bottles and more! 
This month our free Family Fun Ride begins at 9:00 a.m. at Linwood Howe Elementary School  (4100 Irving Place., Culver City, CA 90232)  and heads to the Culver City Expo Station. MAP
We'll take the train to Downtown Los Angeles and join in the fun of CicLAvia - the open streets event that is transforming LA County. CicLAvia closes streets to car traffic along the route so partcipants can experience the City from a whole new angle - without cars! You can bike, walk, skate or scoot... anything but a motorized vehicle. Great food, street entertainment and friendly people everywhere!
NOTE: This is a one-way guided ride. Instructions and meetup time for heading back to Culver City will be provided, but it is not required to come back with the group. All riders under the age of 18 must be accompanied by an adult.
COST: As always our rides are free, but unfortunately, Metro is ot. So, for this ride you will need to purchase a Metro TAP card and train fare. TAP cards cost $1.00 and fare is $1.75 each way per rider ($1.00 for K-12 students). Please be sure to bring at least $4.50 for a TAP card and fare for each person in your party. If you already have a TAP card, we'll show you how to check the balance and load additional fare if necessary.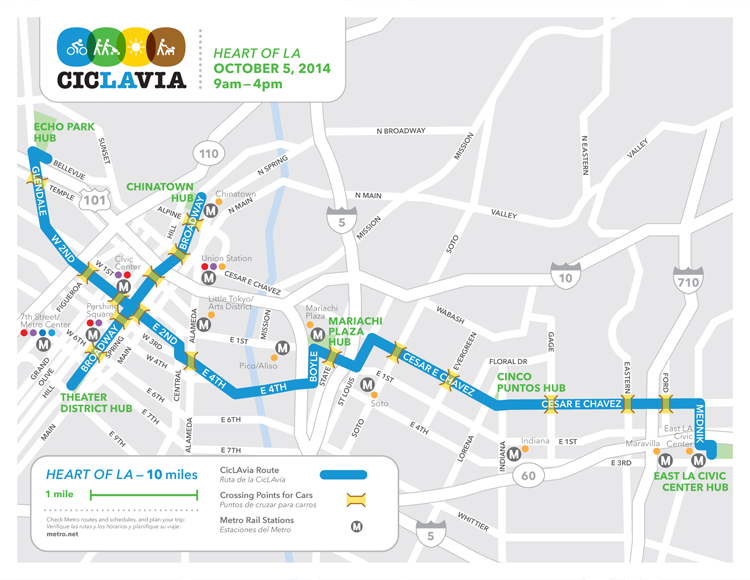 To download a PDF of the route, click on the image.