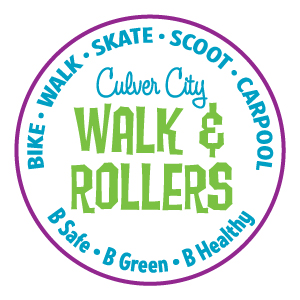 The Culver City Non-Infrastructure Safe Routes to School Program – Culver City Walk & Rollers – will touch on four of the five E's: Education, Encouragement, Enforcement and Evaluation, with the thrust of the program being on Education and Encouragement. All schools will be encouraged to develop sustainable walk and bike to school programs. The program is being funded through a federal non-infrastructure SRTS grant, wawarded to Culver City in 2012. The City and the School District will be providing assistance to the walking and biking programs during the initial 4-year implementation period. Walk 'n Rollers, a local non-profit was selected to oversee the program in 2013 with its founder, Jim Shanman, named Safe Routes to School Coordinator. The Culver City Walk & Rollers will help schools with existing programs build for the future, while establishing new programs at other schools.
In addition to the walk-bike to school efforts, Walk 'n Rollers will be conducting surveys and tallies to determine how most students actually get to school, hosting pedestrian and bicycling safety workshops, leading group rides and providing train-the-trainer programs to teach volunteers how to successfully grow and maintain these programs, with the overall goals being:
Increase the number of children walking and biking to school
Reduce traffic and pollution around school sites and
Create safer, more livable communities.
It's important to note that walking and biking to school does not necessarily mean every day or even door to door. Truly, every day and each block not driven helps. We would love to see every child walk or bike to school every day, but that's challenging in today's world, even in Culver City, so we encourage families to do what they can. For some that will mean a daily commitment to non-motorized transit to school. For others changing habits once a week or once a month will be as much as they can manage. However, even programs like the 5 Block Challenge – a personal commitment to walk or bike 5 blocks to school each week - carpooling or using public transit, can also make a significant dent in the traffic around most of the schools. For parents that are driving around the school, please remember that more children will be walking and biking more often so be sure to exercise extra caution.
We hope you will join us in our commitment to making Culver City a more walkable, bikeable city for our children!
For quesitons regarding the program or volunteer opportunties, please contact Jim Shanman, Culver City Safe Routes to School Coordinator